Laurie Ure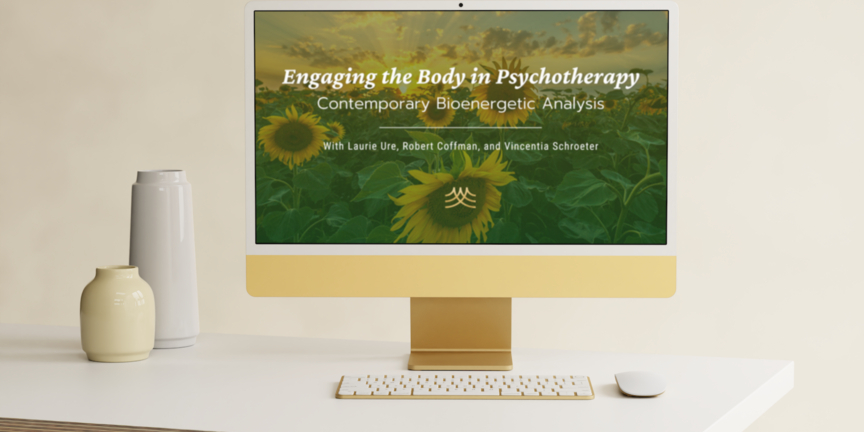 IIBA faculty members Vincentia Schroeter, PhD, and Robert Coffman, PhD, along with MA local faculty member, Laurie Ure, LICSW, created an in-depth, robust, online introductory bioenergetic course through the Academy of Therapy Wisdom titled:
"Engaging the Body in Psychotherapy: Contemporary Bioenergetic Analysis."
The course includes five prerecorded modules covering the basic theory of bioenergetic analysis:
overview of the history,
how it differs from other body-based approaches,
demonstrations of basic techniques, and
overview of character structure.
It also includes five modules recorded on Zoom going into greater depth on these topics, and three sessions of practice with the techniques.
In addition, the course offers twelve "bonus tracks" with rich interviews of
David Berceli, PhD,
Robert Hilton, PhD,
Brazilian bioenergetic therapists Maria Cristina Francisco, PhD, and
Jayme Panerai Alves, CRP,
scientist Dr. Martin Picard, and
author Jeff Brown.
Bonus tracks by Vin, Bob, and Laurie also include:
touch in bioenergetic therapy,
a bioenergetic demonstration on addressing shame,
polyvagal theory & bioenergetics, and
a discussion of the role of catharsis in bioenergetic therapy.
We thank Nanziba, the IIBA, and individual members who generously supported this project!
The course is available for purchase at this link: https://therapywisdom.com/engaging-the-body-in-psychotherapy/
Laurie Ure | laurieure@aol.com