Engaging the Body in Psychotherapy: Contemporary Bioenergetic Analysis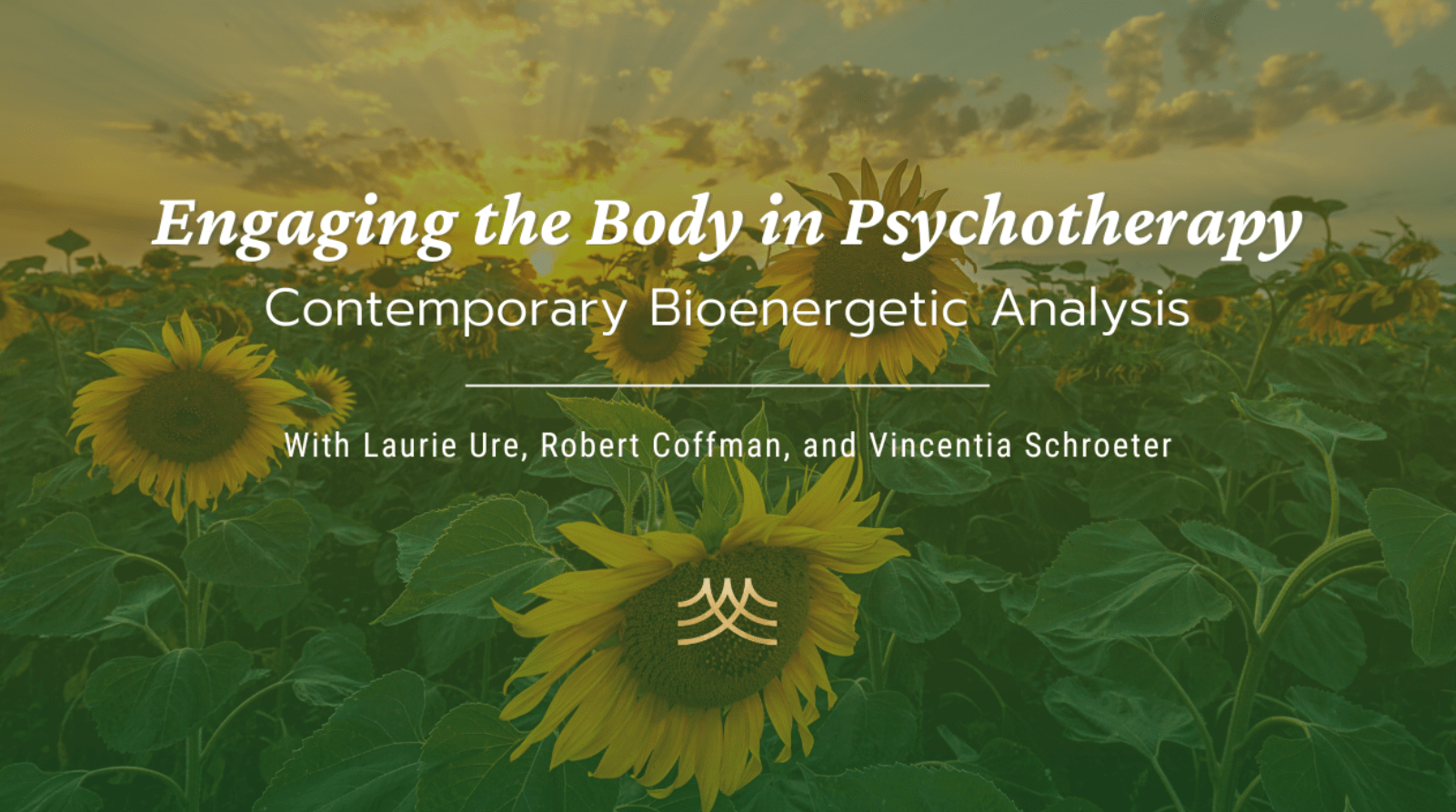 Engaging the Body in Psychotherapy: Contemporary Bioenergetic Analysis is now open for enrollment. In this course you will learn foundational skills for body-centered therapy.
Get all the details and sign up now
External site: https://therapywisdom.com/engaging-the-body-in-psychotherapy
Laurie Ure tells this story:

Depression and I go way back…
Our relationship began in childhood. I remember coming home from elementary school one day, the sky was already getting dark, and the dead leaves were crunching under my feet. I slowly trudged up the big hill towards home, eyes downcast, not wanting to face the heaviness that filled my house - and my heart.
I didn't understand it all then, but my adult self now knows what awaited me at home: A dad who was depressed and distant. A teenage brother who had just made two serious suicide attempts. And a mother whose self-esteem depended on what others thought of her, embarrassed at how our family's mental illness reflected on her role as a school counselor.
On the surface, our family must have looked okay. Or normal. So no one knew how much I was suffering.
But as I entered my teens, word got out. I struggled with depression and considered suicide. 'Laurie, we love you,' read a giant sign my church group hung on a tree outside my house to prevent me from attempting suicide. But they could not protect me from chronic unhappiness.
I dropped out of my first year in college because my depression was overwhelming. Then, my father died tragically in a small plane accident. My mother, widowed and feeling free to pursue an old dream, moved us out of the house where we had grown up to begin her new life as a lay minister. With nothing left resembling "home" anymore, I returned to college.
Out on my own again, I knew I needed help.
I remember my first sessions in my therapist's large, open living room, where she invited me to move to express my feelings. It was a strange, unwieldy concept for me. But what emerged were the truths that the surface image of my family hid and which I couldn't verbalize.
I began to listen to my body, which held a story about my history beyond what I could tell in words.
I had discovered something key.
Over the next decade, with a lot of help from therapists along the way, a new philosophy of life helped me transform my body out of its depressive shape and into my strength as a therapist and educator in my own right. This philosophy was called Bioenergetic Analysis.
Bioenergetic Analysis, or just Bioenergetics for short, taught me that being fully alive includes feeling deeply. Through learning and practicing this deep and gentle methodology, I learned that true strength lies in our ability to tolerate vulnerability, and that our bodies provide essential wisdom we often can't put into words.
Through Bioenergetic Analysis, I grew profoundly in self-confidence and self-acceptance, and learned to work with my body to allow my emotions to move through me more fully.
Finding bioenergetics was one of the greatest blessings of my life, and it is my honor to now be a teacher of this art.
You have the opportunity to be the kind of therapist that touched Laurie's life so significantly by enrolling in the newest course by the Academy of Therapy Wisdom
Find out more about the course: Engaging the Body in Psychotherapy: Contemporary Bioenergetic Analysis by the Academy of Therapy Wisdom
The Academy of Therapy Wisdom | https://therapywisdom.com