Safe the date for the next webinar series in October and November 2023!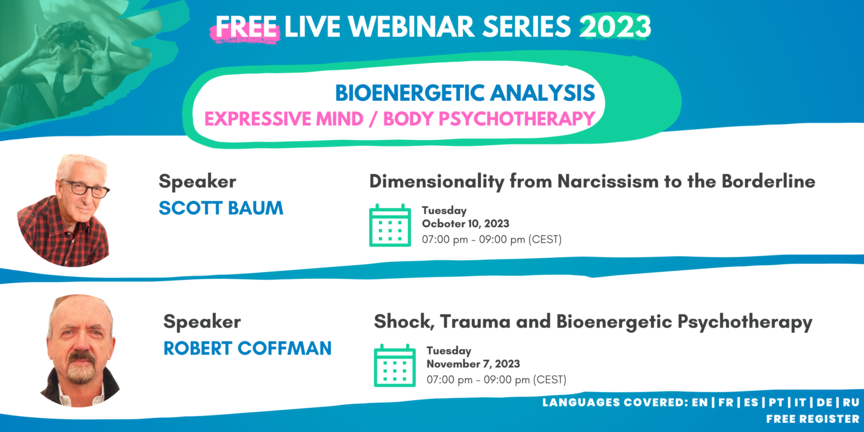 Our next series of webinars is in preparation!
Safe the date and stay tuned for more information soon!
(If you want to watch the webinars of the first series, please click here for more information ...)
Our second webinar series will consist of multiple sessions led again by renowned experts from our global Bioenergetic community. Each session will cover different aspects of our therapeutic approach, including its theoretical foundations, practical techniques, and case studies illustrating its effectiveness:
Date: October 10, 2023 – Time 07:00 – 09:00 pm (CEST - See here your local time ...)
Date: November 7, 2023 – Time 07:00 – 09:00 pm (CEST – See here your local time ...)
(4 additional webinars are planned for the beginning of 2024. More information will be available soon.)
By participating in this webinar series, you will also have the opportunity to learn specific tools and interventions that can be applied in therapeutic settings. Whether you are a mental health professional, a student of psychology, or simply interested in exploring new approaches to personal growth, this series offers valuable knowledge and practical skills.
Registration will be needed (but free of charge). We will also provide again simultaneous interpretation services for French, Spanish, Portuguese, Italian and German. Please spread the word and invite colleagues and friends to join our webinar series!
Teaching Committee | Patricia Moselli, Jörg Clauer, Garry Cockburn, Maria Rosaria Filoni, Miriam Mantau, Eulina Ribeiro, Rick Spletter