Webinar Series 2022 - Psychopathic Structure
IIBA Int. Conference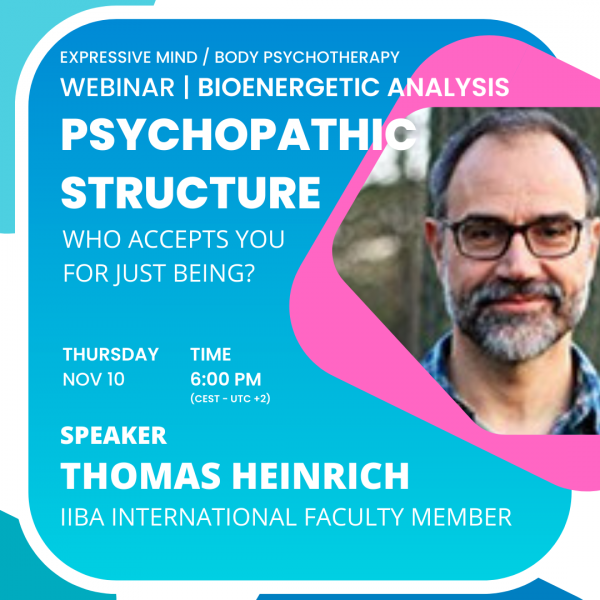 Data:
10-11-2022
18:00
-
20:00
Local: Zoom - Virtual Webinars | Localidade: Barcelona, Spain
Webinar Series 2022: Psychopathic Structure: Who accepts you for just being? by Thomas Heinrich
Bioenergetic Analysis | Expressive Mind / Body Psychotherapy
When children first get on their feet and start walking, they get a whole new view of the world: Finally, being tall and independent! When the child's aspirations are pushed unilaterally by parents toward success, the child's basic needs and growth are hindered. This creates a basic attitude of holding oneself up, of controlling, of devaluating the other or oneself.
This webinar will teach you the etiology of the Psychopathic Character, increase your senses for the expressions of and empathy for the Psychopathic Character, provide effective body orientated psychotherapeutic tools from a reflection of transference and counter transference with clients with a Psychopathic Character.
Agenda:
1. Welcome
2. Presentation
a. Etiology - Lowen's concepts of narcissism and the psychopathic structure
b. The appearance of psychopathic character structure in anatomy & Bioenergetic practice
c. Bioenergetic interventions on clients with a psychopathic character structure, including transference and counter transference
3. Experiential
a. The bitter-sweet doing nothing: How can we do nothing, but be?
b. The joy of fear of falling
4. Q & A
Learning objectives:
In this workshop, participants will learn to ...
Identify the dynamics of manipulation as well as exaggeration and humiliation.
Describe the deep injuries of the psychopathic character structure.
Apply techniques to accompany people with psychopathic character structure on their way to the ground of reality.

About the speaker:
Thomas Heinrich, Dipl.-Psych., Certified Advanced RolferTM, CBT since 2001, member of the Süddeutsche Gesellschaft für Bioenergetische Analyse (SGfBA) and member of faculty of the IIBA, has focused in the last years on the anatomical basics of Bioenergetic Analysis especially in the work with traumatized clients and those with non-heterosexual orientation and non-cis gender. Private practice in Mannheim, Southern Germany. Since 2006, he has been teaching Bioenergetic Analysis in Germany, Belgium, Spain and the United States.
---
November 10, 2022 | 06:00 – 08:00 pm (CEST - UTC +1) | Global Time Reference | Add to Calendar

Language: English | Simultaneous Translation: French, Spanish, Italian, Portuguese, German & Russian(1)
---
Don't miss out! Une occasion à ne pas rater! | ¡No te lo pierdas! | Não perca! | Non perda i nostri webinar! | Nicht verpassen!
Save the dates & stay tuned for more information! | Réservez les dates et restez à l'écoute pour plus d'informations ! | ¡Guarda las fechas y espera más noticias en breve! | Guarde as datas e fique atento para mais informações! | Fissate le date & tenetevi sintonizzati per ulteriori aggiornamenti | Merke Dir schon mal die Termine vor & bleibe auf dem Laufenden für weitere Info!
Participation is free of charge. | La participation est gratuite. | La participación es gratuita. | A participação é gratuita. | La partecipazione è gratuita. | Die Teilnahme ist kostenlos.

More information:
Each webinar will last 2 hours, including a theoretical and an experiential part and gives an opportunity for Q&A.
These 6 webinars are open to anyone interested in attending. The webinar series is especially designed for both professionals who are considering bioenergetic training as well as those wishing to learn about the bioenergetic approach.
All webinars are free of charge. Registration will be required, but will be open until the end of the event.
Languages covered (original and simultaneous interpretation): English, French, Spanish, Italian, Portuguese, German & Russian (1).
Recordings will be available approximately 5-6 business days after each event.
---
References:
Reich, W. (1976, original ed. in German 1933). Character Analysis. Pocket Book.
Lowen, A. (1971, original ed. 1958). The Language of the Body.London: Collier Macmillan Publishing Co.
Lowen, A. (1976). Bioenergetics.London: Penguin Books.
Fréchette, L. (2022). Basic principles, Fundamental Concepts and Values in Bioenergetic Analysis. Bioenergetic Analysis, 32(1), 43–49. https://doi.org/10.30820/0743-4804-2022-32-43
(1) Russian will be offered thanks our Moscow Training Group.
Email
info@bioenergeticanalysis.com
Endereço
Barcelona, Spain