Webinar Series 2022 - Oral Character
IIBA Int. Conference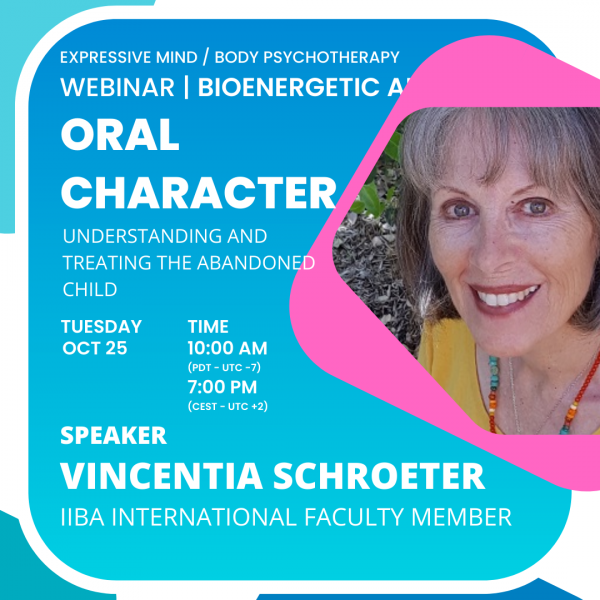 Data:
25-10-2022
19:00
-
21:00
Local: Zoom - Virtual Webinars | Localidade: Barcelona, Spain
Webinar Series 2022: Oral Character: Understanding and Treating the Abandoned Child by Vincentia Schroter
Bioenergetic Analysis | Expressive Mind / Body Psychotherapy
In the first year of life, we need to receive enough love to develop a secure bond. When a child is not given enough love, they deflate like a balloon and collapse, in order to the suppress the pain of feeling abandoned.
This workshop will teach you the dynamics of the Oral Character, increase your compassion for the Oral Character, provide the most effective therapeutic stance from a psychodynamic view, and provide Bioenergetic tools for helping the client.
Agenda:
1. Welcome
2. Presentation
a. Dynamics of oral character (age, attachment wound, somatic response)
b. Demonstration / illustration of the body holding patterns
c. What the client needs from the therapist
3. Experiential
a. Hand exercises
b. Wrist exercises
c. Strategies to help the Oral client feel held and stand on their own.
4. Q & A
Learning objectives:
In this workshop, participants will deepen their understanding of and compassion toward the Oral character and be able to take an effective therapeutic stance using Bioenergetic methods.
1. Gain an understanding of the psychodynamic world of the Oral Character.
2. Deepen your compassion for the struggle of the Oral Character.
3. Identify defensive and adaptive holding patterns.
4. Analyze transference and countertransference issues in working with the Oral.
5. Learn effective therapeutic tools for treating an Oral Client.

About the speaker:
Vin Schroeter, PhD is a member of the international faculty of the IIBA and SCIBA (Southern California Institute for Bioenergetic Analysis). She had a forty-two-year career as a clinical psychotherapist, focusing on body-mind psychology, and specializing in Bioenergetic Analysis. She lives in California (USA) and is the author of the books: Tilt: Seeking Balance in Troubled Times (2021), and Communication Breakthrough: How Using Brain Science and Listening to the Body Can Transform Your Relationships (2018). Vin co-wrote with Barbara Thomson the book, Bend into Shape: Techniques for Bioenergetic Therapists (2011). https://vincentiaschroeterphd.com
---
October 25, 2022 | 07:00 – 09:00 pm (CEST - UTC +2) | Global Time Reference | Add to Calendar

Language: English | Simultaneous Translation: French, Spanish, Italian, Portuguese & Russian(1)
---
Don't miss out! Une occasion à ne pas rater! | ¡No te lo pierdas! | Não perca! | Non perda i nostri webinar! | Nicht verpassen!
Save the dates & stay tuned for more information! | Réservez les dates et restez à l'écoute pour plus d'informations ! | ¡Guarda las fechas y espera más noticias en breve! | Guarde as datas e fique atento para mais informações! | Fissate le date & tenetevi sintonizzati per ulteriori aggiornamenti | Merke Dir schon mal die Termine vor & bleibe auf dem Laufenden für weitere Info!
Participation is free of charge. | La participation est gratuite. | La participación es gratuita. | A participação é gratuita. | La partecipazione è gratuita. | Die Teilnahme ist kostenlos.

More information:
Each webinar will last 2 hours, including a theoretical and an experiential part and gives an opportunity for Q&A.
These 6 webinars are open to anyone interested in attending. The webinar series is especially designed for both professionals who are considering bioenergetic training as well as those wishing to learn about the bioenergetic approach.
All webinars are free of charge. Registration will be required, but will be open until the end of the event.
Languages covered (original and simultaneous interpretation): English, French, Spanish, Italian, Portuguese & Russian(1).
Recordings will be available approximately 5-6 business days after each event.
---
References:
Reich, W. (1976, original ed. in German 1933). Character Analysis. Pocket Book.
Lowen, A. (1971, original ed. 1958). The Language of the Body.London: Collier Macmillan Publishing Co.
Lowen, A. (1976). Bioenergetics.London: Penguin Books.
Fréchette, L. (2022). Basic principles, Fundamental Concepts and Values in Bioenergetic Analysis. Bioenergetic Analysis, 32(1), 43–49. https://doi.org/10.30820/0743-4804-2022-32-43
(1) Russian will be offered thanks our Moscow Training Group.
Email
info@bioenergeticanalysis.com
Endereço
Barcelona, Spain