Webinar Series 2022 - Masochistic Character
IIBA Int. Conference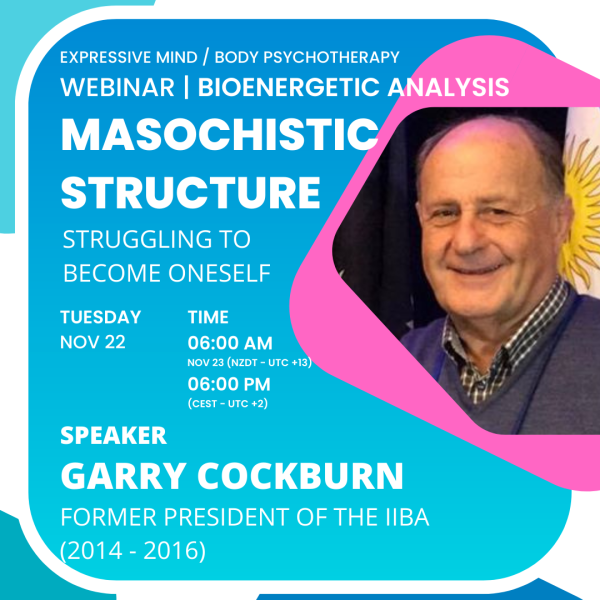 Data:
22/11/2022
18:00
-
20:00
Luogo: Zoom - Virtual Webinars
Webinar Series 2022: Masochistic Character: Struggling to become oneself by Garry Cockburn
Bioenergetic Analysis | Expressive Mind / Body Psychotherapy
With the neurological and muscular system maturation which allows controlling movements, exploring spaces, taking, and holding things in hands, controlling sphincters and all sort of actions "out of the mom's lap" comes the need for self-determination and independence. It is the process of becoming a subject, separated from the object. This is a delicate moment also for the mother and the way she responds to baby's sense of independence is going to be part of the way of being, and so the way of suffering, this new person is becoming.
Agenda
Welcome
Presentation
a. What's is involved in the masochist suffering: from the beginning
b. How the energetic dynamics sustain the psychological and emotional masochist patterns
c. Stubbornness or fight for the Self? The importance of deep and sincere respect from the therapist: Transference and countertransference issues.
d. The masochist's mother as the representant of the social submission
Experiential
a. "Build" in our bodies the muscular and breath masochist patterns for holding the energy
b. Experiencing movements and expression inside this "building"
c. Experience to intensify and to undo the tension with some known bioenergetic movements, possible to be used in the virtual sessions, too.
Q &A
Learning objectives
Identify the family dynamics.
Describe tension patterns and understand their relationship to the psychic organization.
Understand the idea of way of being and way of suffering as a key to deal with the transference and countertransference issues in working with masochist patterns.
Improve the understanding and the compassion as a therapist by understanding somatically the muscular and breathing patterns - experience how to move and express themselves inside those patterns.

About the Speaker
Garry Cockburn, BSW(Hons), NZAP(ACP), CBT, is a local trainer of the New Zealand Society for Bioenergetic Analysis. He was President of the IIBA from 2014–2016. He has published in the Bioenergetic Journal and presented Keynote addresses at IIBA Conferences in Spain and Portugal. He is in private practice in Wellington, New Zealand.
---
November 22, 2022 | 06:00 – 08:00 pm (CEST - UTC +1) | Global Time Reference
Language: English | Simultaneous Translation: French, Spanish, Italian, Portuguese, German & Russian(1)
---
Don't miss out! Une occasion à ne pas rater! | ¡No te lo pierdas! | Não perca! | Non perda i nostri webinar! | Nicht verpassen!
Save the dates & stay tuned for more information! | Réservez les dates et restez à l'écoute pour plus d'informations ! | ¡Guarda las fechas y espera más noticias en breve! | Guarde as datas e fique atento para mais informações! | Fissate le date & tenetevi sintonizzati per ulteriori aggiornamenti | Merke Dir schon mal die Termine vor & bleibe auf dem Laufenden für weitere Info!
Participation is free of charge. | La participation est gratuite. | La participación es gratuita. | A participação é gratuita. | La partecipazione è gratuita. | Die Teilnahme ist kostenlos.

More information:
Each webinar will last 2 hours, including a theoretical and an experiential part and gives an opportunity for Q&A.
These 6 webinars are open to anyone interested in attending. The webinar series is especially designed for both professionals who are considering bioenergetic training as well as those wishing to learn about the bioenergetic approach.
All webinars are free of charge. Registration will be required, but will be open until the end of the event.
Languages covered (original and simultaneous interpretation): English, French, Spanish, Italian, Portuguese, German & Russian (1).
Recordings will be available approximately 5-6 business days after each event.
---
References:
Reich, W. (1976, original ed. in German 1933). Character Analysis. Pocket Book.
Lowen, A. (1971, original ed. 1958). The Language of the Body.London: Collier Macmillan Publishing Co.
Lowen, A. (1976). Bioenergetics.London: Penguin Books.
Fréchette, L. (2022). Basic principles, Fundamental Concepts and Values in Bioenergetic Analysis. Bioenergetic Analysis, 32(1), 43–49. https://doi.org/10.30820/0743-4804-2022-32-43
(1) Russian will be offered thanks our Moscow Training Group.
Email
info@bioenergeticanalysis.com