The effect on endurance-sport athletes after a 8 weeks practice
Marcello Zoni
Psychologist, Bioenergetic Therapist
Parma, Italy (2017)

Abstract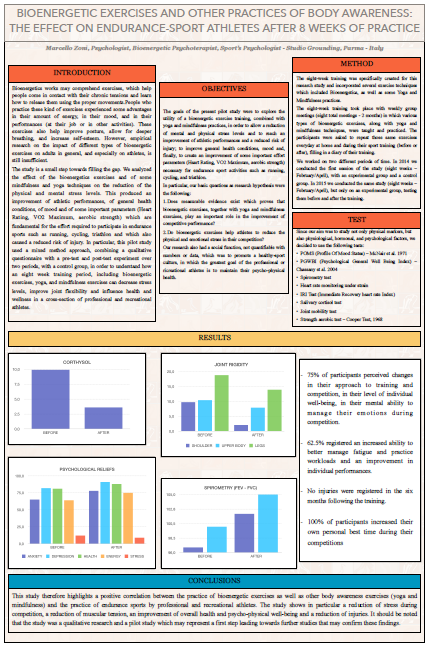 Bioenergetics is a way of understanding personality through energetic processes, that is the production of energy by breathing, by the metabolism and the discharge of energy through movement. According to Lowen and other doctors, psychologists, and psychiatrists, the mind and body can influence each other: what you think influences how you feel and vice-versa. Thinking and feeling are deeply influenced by energetic factors. Chronic tension and rigidity reduce vitality and lower energy. Stiffness is due to prolonged periods of stress, which the organism faces without any possibility of removing the excess tension.
Bioenergetics works may comprehend exercises, which help people come in contact with their chronic tensions and learn how to release them using the proper movements. People who practice these kind of exercises experienced some advantages in their amount of energy, in their mood, and in their performances (at their job or in other activities). These exercises also help improve posture, allow for deeper breathing, and increase self-esteem. However, empirical research on the impact of different types of bioenergetic exercises on adults in general, and especially on athletes, is still insufficient.
The study is a small step towards filling the gap. We analyzed the effect of the bioenergetics exercises and of some mindfulness and yoga techniques on the reduction of the physical and mental stress levels. This produced an improvement of athletic performances, of general health conditions, of mood and of some important parameters (Heart Rating, VO2 Maximum, aerobic strength) which are fundamental for the effort required to participate in endurance sports such as running, cycling, triathlon and which also caused a reduced risk of injury. In particular, this pilot study used a mixed method approach, combining a qualitative questionnaire with a pre-test and post-test experiment over two periods, with a control group, in order to understand how an eight week training period, including bioenergetic exercises, yoga, and mindfulness exercises can decrease stress levels, improve joint flexibility and influence health and wellness in a cross-section of professional and recreational athletes.
The preliminary results suggested that the training participants experienced a higher level of body awareness, a better capacity to handle the stress and the emotional factors of competition, as well as declaring a lower perceived effort during training and competition. However further research is needed in order to better understand the relation between bioenergetic exercises with other psycho-physical practices and the competitive performances.
Keywords: bioenergetic, stress, qualitative research, pilot study, mixed method
Full document in PDF: click Here