The Narcissistic Style
Europe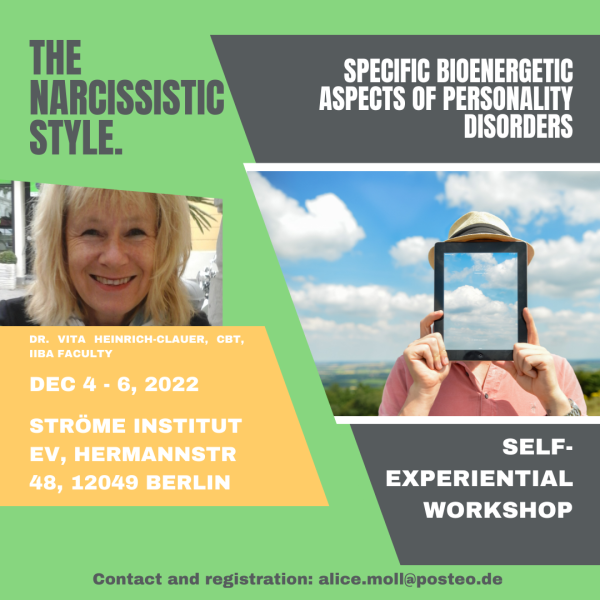 Date:
04/12/2022
-
06/12/2022
Venue: STRÖME e.V. | City: Berlin, Germany
The Narcissistic Style
Specific Bioenergetic Aspects of Personality Disorders
This self-experiential workshop is designed for bioenergetic trainées in the clinical training phase as well as for postgraduate interested colleagues.
The following topics will be taught experientially:
Phenomenology: body expression, behavior, attitudes, feelings; relational qualities.
Etiology (developmental psychological explanations).
Psychodynamics and defense mechanisms (compensated vs. decompensated style).
Therapeutic goals and specific interventions in bioenergetic therapy.
In this workshop, the content will be taught through the path of self-awareness as well as by short lectures and discussion. This will include group exercises, small group sessions and individual work.
Dr. Vita Heinrich-Clauer, CBT, IIBA Faculty
Ströme Institut | Hermannstraße 48 | 12049 Berlin (GERMANY)
300 EUR
Der Narzisstische Stil
Spezifische bioenergetische Aspekte bei Persönlichkeitsstörungen
Dieser praxisorientierte Workshop richtet sich an bioenergetische Trainées in der Klinischen Ausbildungsphase sowie an postgraduate interessierte KollegInnen. Folgende Themen werden erfahrungsorientiert vermittelt:
Phänomenologie: Körperausdruck, Verhalten, Einstellungen, Gefühle; Beziehungsqualitäten.
Ätiologie (Entwicklungspsychologische Erklärungen).
Psychodynamik und Abwehrmechanismen (Kompensierter vs. Dekompensierter Stil)
Therapeutische Ziele und spezifische Interventionen in der bioenergetischen Therapie
In diesem Workshop werden die Inhalte über den Weg der Selbsterfahrung sowie Kurzvorträge und Diskussion vermittelt. Dies beinhaltet Übungen in der Gruppe, Kleingruppen und Einzelarbeit.
Email
alice.moll@posteo.de
Address
Hermannstraße 48
12049 Berlin, Germany

All Dates
From

04/12/2022

to

06/12/2022