Webinar Series 2022 - Bioenergetic Basics
IIBA Int. Conference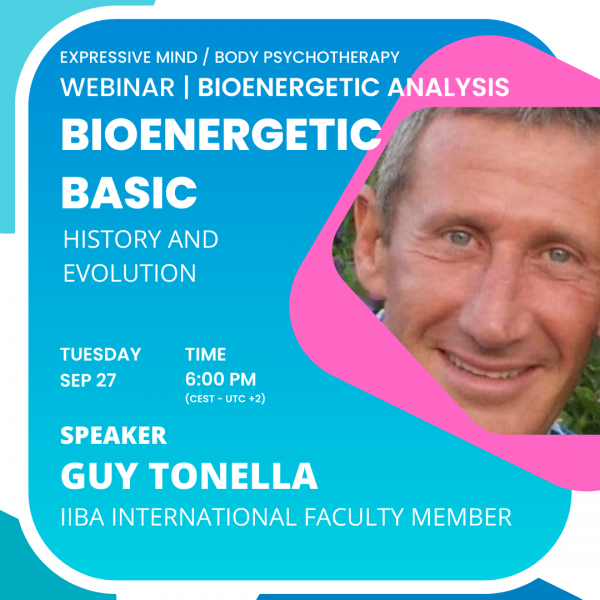 Date:
27/09/2022
18:00
-
20:00
Venue: Zoom - Virtual Webinars | City: Barcelona, Spain
Webinar Series 2022: Bioenergetic Basics - History and Evolution of Bioenergetic Analysis by Guy Tonella
Bioenergetic Analysis | Expressive Mind / Body Psychotherapy
Bioenergetic Analysis was created by Alexander Lowen, M.D. (New York) in the 1950s. It is based on the work of Wilhelm Reich, a disciple and contemporary of Sigmund Freud.
In this webinar, I will first describe the theoretical and practical Lowenian foundations of Bioenergetic Analysis: the energetic dynamics of human functioning, then its characterological organization in response to unresolved childhood conflicts and traumas.
Then I will present the current evolution of Bioenergetic Analysis, enlightened by contemporary research in neurobiology, by work on trauma, by contributions from related theoretical and therapeutic fields, such as attachment theory.
Agenda:
1. Welcome
2. Presentation
a. Birth of Bioenergetic Analysis
b. Theoretical and practical basics of Bioenergetic Analysis
i. Energetic functioning of the human being
Expansion-contraction function
Pulsating and wave function
ii. Regulation of the energetic functioning
Pendulous function integrating opposing experiences
Pendulous function regulating functional bipolarities
iii. Characterological response
c. The evolution of Bioenergetic Analysis
i. Integration of attachment theory: attachment patterns and properties of the attachment bond
ii. A developmental model of the Self
iii. Integration of neurobiological contemporary models contemporains and enrichment of the concept of character
iv. A multi-referenced approach to trauma
v. A multi-referenced approach to therapeutic relationship: intersubjective, analytical, transferential
3. Q & A
Learning objectives:
Understand the specificity of Bioenergetic Analysis as a mind-body approach.
Discover the theoretical foundations of Bioenergetic Analysis.
Understand the specificity of the bioenergetic work method (technical, relational and experiential approach).
Present its specific therapeutic objectives working with inhibitions, conflicts, developmental traumas or factual traumas.

About the speaker:
Dr Guy Tonella is a Doctor in Clinical and Developmental Psychology, CES of Psycho-physiology, Certified Bioenergetic Therapist, International IIBA Trainer and Faculty member, Co-Director of the Collège Français d'Analyse Bioénergétique. He was Professor of Psychology at Toulouse University for 20 years. He teaches in most European countries and in Argentina, Brazil, Canada, New Zealand and China. He is in private practice in Toulouse in France.
---
September 27, 2022 | 06:00 – 08:00 pm (CEST - UTC +2) | Global Time Reference | Add to Calendar

Language: English | Simultaneous Translation: French, Spanish, Italian, Portuguese & Russian(1)
---
Don't miss out! Une occasion à ne pas rater! | ¡No te lo pierdas! | Não perca! | Non perda i nostri webinar! | Nicht verpassen!
Save the dates & stay tuned for more information! | Réservez les dates et restez à l'écoute pour plus d'informations ! | ¡Guarda las fechas y espera más noticias en breve! | Guarde as datas e fique atento para mais informações! | Fissate le date & tenetevi sintonizzati per ulteriori aggiornamenti | Merke Dir schon mal die Termine vor & bleibe auf dem Laufenden für weitere Info!
Participation is free of charge. | La participation est gratuite. | La participación es gratuita. | A participação é gratuita. | La partecipazione è gratuita. | Die Teilnahme ist kostenlos.

More information:
Each webinar will last 2 hours, including a theoretical and an experiential part and gives an opportunity for Q&A.
These 6 webinars are open to anyone interested in attending. The webinar series is especially designed for both professionals who are considering bioenergetic training as well as those wishing to learn about the bioenergetic approach.
All webinars are free of charge. Registration will be required, but will be open until the end of the event.
Languages covered (original and simultaneous interpretation): English, French, Spanish, Italian, Portuguese & Russian (1).
Recordings will be available approximately 5-6 business days after each event.
---
References:
Reich, W. (1976, original ed. in German 1933). Character Analysis. Pocket Book.
Lowen, A. (1971, original ed. 1958). The Language of the Body.London: Collier Macmillan Publishing Co.
Lowen, A. (1976). Bioenergetics.London: Penguin Books.
Fréchette, L. (2022). Basic principles, Fundamental Concepts and Values in Bioenergetic Analysis. Bioenergetic Analysis, 32(1), 43–49. https://doi.org/10.30820/0743-4804-2022-32-43
(1) Russian will be offered thanks our Moscow Training Group.
Email
info@bioenergeticanalysis.com