Webinar Series 2022 - Schizoid Structure
IIBA Int. Conference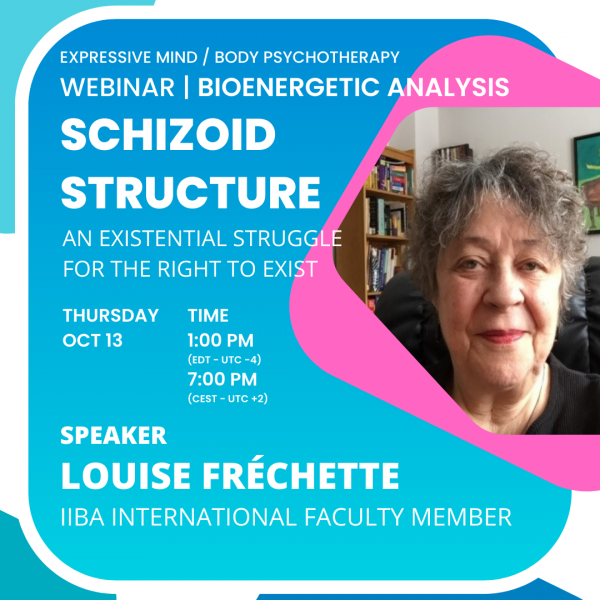 Date:
13/10/2022
19:00
-
21:00
Venue: Zoom - Virtual Webinars | City: Barcelona, Spain
Webinar Series 2022: Schizoid Structure - An Existential Struggle for the Right to Exist by Louise Fréchette
Bioenergetic Analysis | Expressive Mind / Body Psychotherapy
At the very beginning of life, when an infant comes into the world in a cold and hostile environment, his young and fragile organism is profoundly impacted by the lack of a warm and safe "ground" supportive of his growth. Hence, the infant experiences a state of shock as he struggles to survive in an adverse environment. This primitive experience will shape his relationship to himself, to others, and to the world.
In this webinar we will explain the kind of family dynamics the schizoid person grew up in, and how the lack of safety affected him somatically, psychically as well as in his attachment pattern. We will discuss transference and countertransference issues that arise in the work with a person of the schizoid type. Finally, we will see how to create a safe therapeutic environment and how to use bioenergetic exercises to help that person reconnect with an inner experience of safety and aliveness.
Agenda:
1. Welcome
2. Presentation
a. The etiology of the schizoid structure
b. The psychic and somatic impact of lack of a safe base
c. Transference and countertransference issues in the work with schizoid patients
3. Experiential
a. Creating safety in the therapeutic space
b. Bioenergetic strategies to help schizoid clients heal the head/body split and reconnect with a sense of aliveness both bodily and psychically
4. Q & A
Learning objectives:
Identify the family dynamics conducive to the elaboration of a schizoid structure from a bioenergetic perspective.
Describe tension patterns and understand their relationship to the psychic organization of the schizoid structure.
Understand the type of attachment pattern as well as the neurobiological implications related to the lack of a safe base early in life.
Analyze transference and countertransference issues in working with Schizoid clients.
Experiment various bioenergetic exercises designed to help patients feel the aliveness in their body.

About the speaker:
Louise Fréchette is a member of the international faculty of the IIBA, member of the Société Québécoise d'Analyse Bioénergétique (SoQAB). She is a practicing bioenergetic analyst since 1980, in Montreal, Quebec. Since 1987, she has been teaching Bioenergetic Analysis in Canada, in the United States, in France, Belgium, Spain, Portugal, Russia, as well as in Argentina, Brazil and New Zealand.
---
October 13, 2022 | 07:00 – 09:00 pm (CEST - UTC +2) | Global Time Reference | Add to Calendar
Language: English | Simultaneous Translation: French, Spanish, Italian, Portuguese & Russian(1)
---
Don't miss out! Une occasion à ne pas rater! | ¡No te lo pierdas! | Não perca! | Non perda i nostri webinar! | Nicht verpassen!
Save the dates & stay tuned for more information! | Réservez les dates et restez à l'écoute pour plus d'informations ! | ¡Guarda las fechas y espera más noticias en breve! | Guarde as datas e fique atento para mais informações! | Fissate le date & tenetevi sintonizzati per ulteriori aggiornamenti | Merke Dir schon mal die Termine vor & bleibe auf dem Laufenden für weitere Info!
Participation is free of charge. | La participation est gratuite. | La participación es gratuita. | A participação é gratuita. | La partecipazione è gratuita. | Die Teilnahme ist kostenlos.

More information:
Each webinar will last 2 hours, including a theoretical and an experiential part and gives an opportunity for Q&A.
These 6 webinars are open to anyone interested in attending. The webinar series is especially designed for both professionals who are considering bioenergetic training as well as those wishing to learn about the bioenergetic approach.
All webinars are free of charge. Registration will be required, but will be open until the end of the event.
Languages covered (original and simultaneous interpretation): English, French, Spanish, Italian, Portuguese & Russian(1).
Recordings will be available approximately 5-6 business days after each event.
---
References:
Reich, W. (1976, original ed. in German 1933). Character Analysis. Pocket Book.
Lowen, A. (1971, original ed. 1958). The Language of the Body.London: Collier Macmillan Publishing Co.
Lowen, A. (1976). Bioenergetics.London: Penguin Books.
Fréchette, L. (2022). Basic principles, Fundamental Concepts and Values in Bioenergetic Analysis. Bioenergetic Analysis, 32(1), 43–49. https://doi.org/10.30820/0743-4804-2022-32-43
(1) Russian will be offered thanks our Moscow Training Group.
Email
info@bioenergeticanalysis.com