Webinar Series 2022 - Rigid Character
IIBA Int. Conference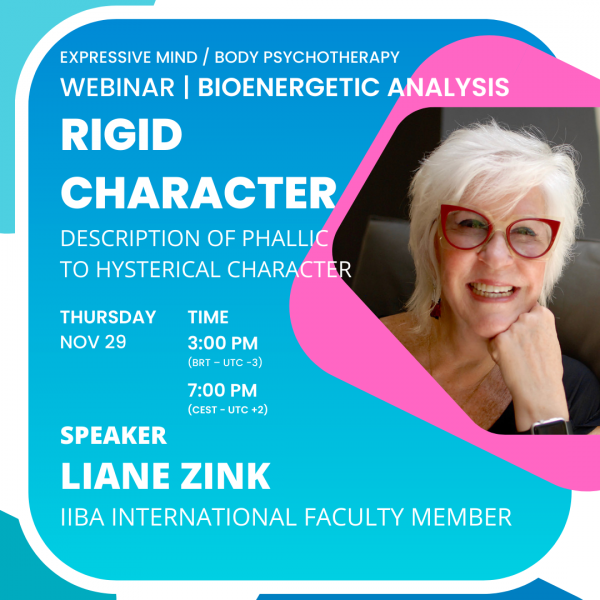 Date:
29/11/2022
19:00
-
21:00
Venue: Zoom - Virtual Webinars | City: Barcelona, Spain
Webinar Series 2022: Rigid Character: Description of Phallic to Hysterical Character by Liane Zink
Bioenergetic Analysis | Expressive Mind / Body Psychotherapy
Alexander Lowen believed that our thoughts were so powerful that they formed energy patterns within the body to shape us. Liane Zink will finish the webinar series 2022 teaching about the last predominant character type: Rigid character.
A rigid character limits the energy flow in the body because as a child she/he was told "no" so often that she/he makes a commitment to control her/his world. Liane Zink will teach bioenergetic strategies to help rigid clients heal and how they can begin to enjoy the pleasure of not having to do anything.
Agenda:
1. Welcome
2. Introduction
a. Building character
b. Sex life and fantasies
c. Body and psychological armors
d. Stiff bodies
e. Defense mechanisms
f. Hysterical character and how it manifests in the family system
3. Theoretical / Practical
a. Working with transference and countertransference
b. Filled up pelvis and emptied out chest / Filled up chest and emptied out pelvis
4. Q &A
Learning objectives:
Understanding the structure of Phallic and Hysterical characters according to Alexander Lowen and other authors.

About the speaker:
Liane Zink is a member of the International Faculty of the IIBA, Reichian Analyst, Certified Family System Therapist, lecturer and professor and head of São Paulo's Institute for Bioenergetic Analysis (IABSP). She is also a senior trainer at the Brazilian Institute for Biosynthesis and President of the Overseas Association for Biosynthesis (OABS from the International Institute for Biosynthesis). In her journey as a trainer, she has worked in countries like Germany, Russia, Czech Republic, Portugal, Spain, Argentina, and Brazil. She is also the founder and director of Ágora Centro de Estudos Neo-Reichianos do Brasil (Brazil's Ágora Center for Neo-Reichian Studies) and the founding director of Ágora in Germany. In addition, she penned the introduction of Alexandre Lowen's book "Joy" and Ron Robbins's "Rhythmic Integration: Finding Wholeness in the Cycle of Change". Liane is author of several published articles on body psychotherapy.
---
November 29, 2022 | 07:00 – 09:00 pm (CEST - UTC +1) | Global Time Reference | Add to Calendar

Language: English | Simultaneous Translation: French, Spanish, Italian, Portuguese, German & Russian(1)
---
Don't miss out! Une occasion à ne pas rater! | ¡No te lo pierdas! | Não perca! | Non perda i nostri webinar! | Nicht verpassen!
Save the dates & stay tuned for more information! | Réservez les dates et restez à l'écoute pour plus d'informations ! | ¡Guarda las fechas y espera más noticias en breve! | Guarde as datas e fique atento para mais informações! | Fissate le date & tenetevi sintonizzati per ulteriori aggiornamenti | Merke Dir schon mal die Termine vor & bleibe auf dem Laufenden für weitere Info!
Participation is free of charge. | La participation est gratuite. | La participación es gratuita. | A participação é gratuita. | La partecipazione è gratuita. | Die Teilnahme ist kostenlos.

More information:
Each webinar will last 2 hours, including a theoretical and an experiential part and gives an opportunity for Q&A.
These 6 webinars are open to anyone interested in attending. The webinar series is especially designed for both professionals who are considering bioenergetic training as well as those wishing to learn about the bioenergetic approach.
All webinars are free of charge. Registration will be required, but will be open until the end of the event.
Languages covered (original and simultaneous interpretation): English, French, Spanish, Italian, Portuguese, German & Russian(1).
Recordings will be available approximately 5-6 business days after each event.
---
References:
Reich, W. (1976, original ed. in German 1933). Character Analysis. Pocket Book.
Lowen, A. (1971, original ed. 1958). The Language of the Body.London: Collier Macmillan Publishing Co.
Lowen, A. (1976). Bioenergetics.London: Penguin Books.
Fréchette, L. (2022). Basic principles, Fundamental Concepts and Values in Bioenergetic Analysis. Bioenergetic Analysis, 32(1), 43–49. https://doi.org/10.30820/0743-4804-2022-32-43
(1) Russian will be offered thanks to our Moscow Training Group.
Email
info@bioenergeticanalysis.com